Lake County Waterways
400 W. 4th Ave.
Mount Dora, FL 32757
Scenic Boat Tours: Enjoy the natural habitat of Lake Dora, "The most beautiful mile of water in the world," where you can expect to see nature and wildlife at its finest!
Mount Dora Canal Cruise is a 2hr cruise where you'll be sure to see a bit of Lake County history.
Chain of Lakes Pleasure Cruise offers an opportunity to several unique sites of nature
Sunset Cruise, which departs once daily (call for reservations and times) is a 1.5hr cruise that will take you around beautiful Lake Beauclair where it's not uncommon to spot Bald Eagles high in the tree tops.
All daily cruises run in accordance with daylight savings time: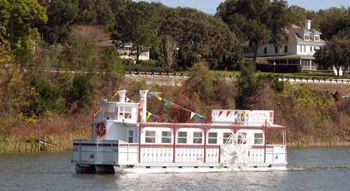 Summer: 11:00am | 1:30pm | 4:00pm
Winter: 10:00am | 12:30pm | 3:pm
Speciality Cruises…… 
Anniversaries / Weddings 

Bachelor Parties / Bridal Showers

Create your own cruise

Engagement Parties

Private Parties
Call for Specialty Cruise reservations. Price and departure times vary for these cruises. 
Guided Segway Tours
140 W 5th Ave
Mt Dora, FL 32757
Unique Segway Tour of Historic Mount Dora
A one hour city tour begins at the dealership in downtown Mount Dora, travels along side of the city marina, runs out to the famous Mount Dora lighthouse and over to Palm Island Park. In the Palm Island Park, you travel through some of the most intriguing nature paths in Florida and explore the raised walkway over the water's edge, allowing the riders an opportunity to view the abundant wildlife and variety of plants up close and first hand.
You will then leave the Palm Island Park and head out through beautiful and historic neighborhoods while riding by several of the town's well known and historic Bed & Breakfasts. The tour will then turn back towards town via the Historic Lakeside Inn which was built in 1883 and still retains its original charm. After enjoying the gorgeous view westward across Lake Dora you will begin your return trip back through town to the home base on 5th Avenue.
This tour will show you a side of Mount Dora that you will not want to miss and can only see on a Segway!
For the more Segway savvy tour guests, there is also a secondary Mt Dora Tour which follows the eastern shore of Lake Dora towards the beautiful and crystal clear Lake Gertrude where you will see historic lakeside homes built in the 1920's. As the tour proceeds along the shores of Lake Gertrude the terrain takes a sudden change as you discover the winding roads and beautiful vistas around Dogwood Mountain. While your Segway takes you effortlessly higher, you will be amazed as you take a break to view the forest below from a breathtaking overlook atop Dogwood Mountain. This tour is recommended for guests who have already enjoyed the historic city Segway tour. 
Scheduling & Reservations…
All Mt Dora Tours are operated Wednesday through Sunday at 10:00 a.m., Noon and 2:00 p.m. from the showroom.
Tour cost is $48.00 per person, plus tax. Tours are subject to availability and reservations are strongly encouraged to insure that you get the time slot you require. To make reservations, call call 352-383-9900 or email at
segwayofcentralflorida@yahoo.com
anytime, seven days a week. Age range – Minimum age is 16 years. Participants under 18 must be accompanied by an adult.
Imagine the delight of your guests when they are entertained by elegant carriage rides – have a carriage pick up you and your guests from their Bed & Breakfast and delivered to your favorite restaurant.
Florida Style Christmas Sleigh Rides…
During Christmas season in Mount Dora the lights of the town and Donnelly Park take on a magical ambience as you experience them from an open carriage. Snuggle down under the blankets, sip on your hot chocolate and sing your favorite Christmas Carols in time with the hoof beats and jingle bells of our horses.
Ride options in Mount Dora…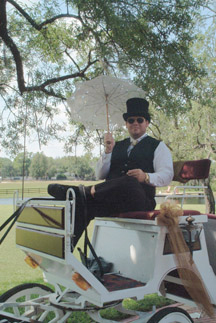 Private Reserved Ride: (Great for couples)
Private hire is for a 25-30 minute ride where you get the carriage to your party only, you can be picked up and dropped off anywhere in the downtown area at a reserved time.
The private carriage ride during normal operating hours is $80.00 cash + a gratuity for your driver.
Private reserved 16 passenger wagon during normal operating hours is $100.00 + gratuity.
Call 352-394-8851 to set your Reservations.
(This is a non-reservable ride.  Just show up and get the next available seating. There may be other riders in the carriage with you.)
Starting and ending at the corner of 4th and Alexander St. 
This ride is 25-30 minutes and cash only.
$12.00 for Adults
Under age five ride for free
Closed Mondays and Tuesdays
The White carriage holds up to 6 adults and three kids. The Burgundy carriage holds 4 adults and two kids.
Balloon Flights
Champagne Balloon Flights in the Mount Dora…
2547 Lakeshore Drive
Mt Dora, FL 32757-4713
(352) 735-7647
Call for scheduling:
Chuck (352) 735-7647 or chuckrohr@rohrballoons.com
Pricing:
Champagne balloon chartered ride (per person): $200.00
Private charter for 2 passengers: $600.00
* All prices are total cost and include taxes and fees.
The adventure of a lifetime includes:
A first class flight from a locally owned and operated company
Sunrise or sunset flights year round for parties of 2-6 people per balloon
There is no substitute for experience. Highly experienced and knowledgeable pilots with perfect safety records.
A flight of approximately one hour, floating above the beautiful countryside
An upscale celebration with champagne and snacks immediately following the flight
What to expect:
No deposit or pre-payment is required to schedule
A confirmation email once your flight is scheduled
A call from your pilot prior to the flight with weather conditions
Flight may be rescheduled if weather conditions are unfavorable
Flights range from the surface to 3,000 feet or more
Fear of heights? A gentle sensation of floating relaxes the potential fear of heights
The temperature aloft similar to that on the ground
Your pilot and crew will take pictures of your flight
A fantastic experience everyone should have at least once in their lives!
What to wear:
Dress for the weather, as if hiking in a pasture (chances are we may end up landing in one!)
Jeans with sneakers or boots are recommended – sandals and open-toes shoes are not permitted
In cold weather, wear multiple layers of clothing or a windbreaker Avoid wearing long jewelry, skirts or fine clothing
Hats or ball caps are encouraged, but not necessary
Small cameras are welcome
Cancellation policy: Please allow as much advanced notice as possible if you need to cancel your flight. A cancellation fee may be charged for cancellations with less than 72 hours notice or failure to show the day of the flight.
Mount Dora Ghost Walk
The Mount Dora Ghost Walk is a 90 minute adventure into the darker side of Mount Dora's history. Your journey begins with a 30 minutes seated parlor theater performance followed by a 60 minutes lantern-led walking tour of Old Mount Dora where history meets mystery with a funny touch of the macabre.
The show is the only ghost tour in the country that offers you an interactive theatrical performance that combines live acting, a magic show, and a full staged marionette theater with special effects.
1st and 3rd Saturday of every month except October and December.
Call for further date availability 352~406~5672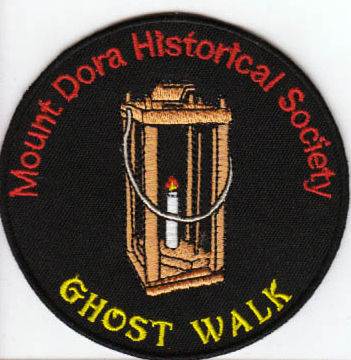 Prior Reservations Required
Cost: $10  over 12 years old. $8 under 12 yrs old
Csh or personal check
Tours start at the Mount History Museum
50 Royellou Ln
Mount Dora, FL 32757
Reservations Phone: 352-406-5672 – leave date/time/# in party/phone#
All Tours involve about 3/4 mile of walking with hills, wear comfortable shoes
Tours originate at the Mount Dora History Museum at 450 Royellou lane, arrive 5 minutes early,
Bring your camera or video camera to capture orbs, apparitions
No smoking
There are some stairs but accommodations can be made, let us know at time of making reservations
email: mountdoraghostwalk@yahoo.com
Mount Dora Trolley Company
Relax and enjoy a one hour narrated tour of Mount Dora's past present and future on board a custom built climate controlled trolley. On this guided Mount Dora tour you will see the quaint downtown shopping village, beautiful Lake Dora, spring-fed Lake Gertrude, historic homes, Palm Island's boardwalk nature trail and the memorable lighthouse.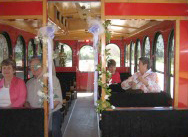 Schedule (subject to change)
Monday-Friday: 11-12-1 & 2pm
Saturday:11-12-1 & 2 pm
Tour Price $13 Adults $11 Children 2 and up.
Call (352) 385-1023
Departures from the Historic Lakeside Inn
Other Trolley Packages….
Trolley Tour & Lunch
1 hour Trolley Tour plus Lunch
(Includes soup, garlic rolls, main entree, beverage, & gratuity) $26.25 per person
Christmas Tour of Lights available in Dec. $15 per person
Trolley's are enclosed with tinted windows, air conditioning or heat, crushed velvet seats, CD/PA stereosystem. You are provided with a professional tour guide so sit back and enjoy.
Adventure Cove Mini Golf