FUTURE WORLD DINING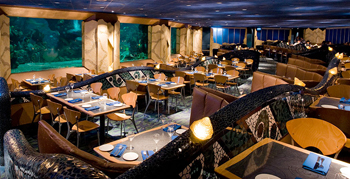 Coral Reef Restaurant
Cuisine: Seafood
Location: The Seas with Nemo & Friends Pavilion
Price Range: $$$ ($30-$49.99 per person)
Information: To make reservations call (407) 939-3463 up to 180 days prior to your visit. Specialty celebration cakes are available for an additional charge and should be ordered 48 hours in advance by calling (407) 827-2253.  Non-smoking environment. 
The Coral Reef Restaurant serves scrumptious seafood for lunch and dinner surrounded by stunning underwater views of The Living Sea coral reef. This is one of the best theme park views anywhere. Every table has a great view thanks to tiered seating.
Dine on grilled mahi mahi, pan-seared flounder and other seafood favorites, as well as New York strip steak, grilled chicken and vegetable strudel. All the while, look out on the largest inland saltwater environment ever built – containing 85 different species of tropical fish.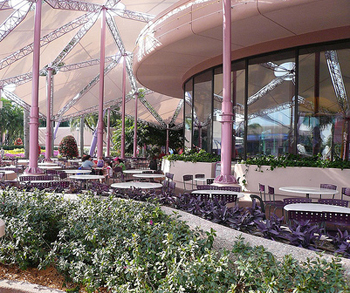 Electric Umbrella Restaurant
Cuisine: American
Location: Future World
Price Range: $ ($14.99 and under per person)
Information: Counter service restaurant across from Innoventions.
Grab a tray and try some chicken dishes, hamburgers, hot dogs, veggie wraps and salads. Take a seat in the air-conditioned indoors.
An appealing feature of the Electric Umbrella is the self-serve drink dispensers – you're welcome to refills during your meal. The fountain drinks are sold at the registers as empty cups, to be filled (and refilled) by the guest. Sizes are "regular" and "large," though the regular is a very small cup and the large is what would be a regular at other restaurants. Grab a last refill on your way out and enjoy another full drink as you continue touring!
MENU
Bacon Double Cheeseburger
With fries or apple slices – $8.09
Double Cheeseburger
With fries or apple slices – $7.59
Cheeseburger
With fries or apple slices – $6.59
Tossed Island Chicken Salad
With mango, pineapple, and raisins, in a fat-free Italian dressing – $7.19
Whole Wheat Vegetable Wrap
with hummus, zucchini, lettuce, cucumber, carrots, roasted red peppers, balsamic vinaigrette and apple slices – $7.59
Grilled Chicken Sandwich
with lettuce and tomato served with a wheat bun with apple slices – $8.19
Chicken Breast Nuggets
served with fries or apple slices – $6.89
Children's Menu (9and under)
Cheeseburger or Turkey Pinwheels
Both come with choice of two sides – applesauce, grapes or carrot sticks and a beverage – milk, bottled water or apple juice – $4.99  **Soda or Fries available on request.
 Chocolate Chip Cookie – $1.79
Cheesecake
served with strawberry sauce – $3.59
No Sugar Added Brownie – $2.39
Fruit Bowl – $3.39
Beverages
Coke, Diet Coke, Sprite, Orange, Light Lemonade – $2.39
Bottled Water – $1.25/$2.50
Milk – $1.29
Nescafe Coffee – $1.99
Hot Chocolate – $1.99
Iced Tea – $2.29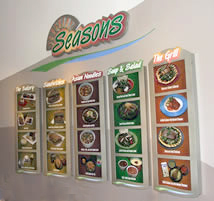 Sunshine Season Food Fair
Cuisine: American
Location: The Land Pavilion
Price Range: $ ($14.99 and under per person)
Information: Counter service restaurant
From Asian noodle bowls to made-to-order sandwiches served on artisan breads, the choices are plenty at this collection of restaurants that offer quick service. No fried food, healthier options, and everything is prepared fresh as you watch.  
At the Wood-Fired Grill Shop Wood-fired grills and rotisseries are center stage with fresh vegetables inspired by autumn. Hearty, earthy flavors include rotisserie chicken, wood-grilled salmon with mashed potatoes and kalamata olive pesto, and pork loin with yellow rice and salad.
At the Sandwich Shop Made-to-order sandwiches are served on artisan breads. Sandwich choices include grilled vegetable Cuban, Black Forest ham and salami grinder with arugula on ciabatta and smoked turkey and Munster on foccacia with spring greens.
At the Asian Shop Wrapped around a 6-foot-long Mongolian barbecue and wok station, this area serves noodle bowls and stir-fries. Dishes are light, healthy and flavorful, like spicy Mongolian stir-fry beef with Asian vegetables; Thai chile chicken with lo mein noodles and vegetables, and a garlic-chile noodle bowl with chicken.
At the Soup/Salad Shop Food inspired by the abundance of growth and the celebration of the spring, fresh salads are prepared on stage. Distinct flavor combinations include seared tuna on mixed greens with sesame rice-wine vinaigrette; roasted beet and goat cheese salad with cilantro-lime vinaigrette, and grilled chicken Caesar salad.
Menu
The Grill
Rotisserie Half Chicken with two side items – $9.99
Grilled Salmon with Kalamata Olive Pesto and two side items – $9.99
Rotisserie Pork Chop with two side items – $9.99
Children 9 and under: Rotisserie Chicken Leg with Mashed Potatoes – $6.49
Sandwiches
Smoked Ham and Salami on Asiago Ciabatta with side – $7.59
Turkey and Monterey Jack on Focaccia with Chipotle Mayonnaies with a side – $8.59
Oak Grilled Vegetable Flatbread Sandwich with a side – $8.59
Children 9 and under: Make-Your-Own Mini Sub Sandwich – $4.99
Asian Noodles
Ginger Mongolian Beef with two sides- $9.99
Spicy Cashew Chicken with two sides – $9.99
Sweet-and-Sour Chicken with two sides – $9.99
Tofu and Vegetable Noodle Bowl – $7.59
Children 9 and under: Sweet-and-Sour Chicken – $6.49
Soup & Salad
Roasted Beets and Goat Cheese Salad with Honey Sherry Dressing – $7.89
Seared Tuna on Mixed Greens with Sesame Rice Wine Dressing – $9.29
Caesar Salad with Oak-fired Chicken – $8.59
Freshly Made Soup – $3.99
Children 9 and under: Macaroni and Cheese – $4.99
The Bakery
Desserts made daily in the bakery – $1.49 – $4.99
Espresso – $2.69
Iced Coffee Mocha, Latte or French Vanilla – $3.19-$3.69
Chocolate Chip Cookies – $1.99