CHARACTER DINING
PRINCESS STORYBOOK DINING AT AKERSHUS ROYAL BANQUET HALL
Location: Norway Pavilion
Service: Breakfast/American. Character Dining Family-style. Price Range:$15-$29.99 per person
Service: Lunch/Norwegian. Character Dining Family-style. Price Range:$15-$29.99 per person
Service: Dinner/Norwegian-Character Dining–Family style. Price Range:$30-$49.99 per person
Reservations: (407) 939-3463 up to 180 days prior to your visit.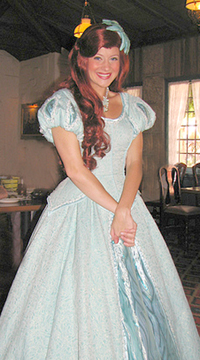 Feel like royalty while you dine in Akershus Royal Banquet Hall. High-beamed ceilings, decorative leaded-glass windows and sweeping archways contribute to the authentic castle atmosphere.
Adding to the regal scene are the Disney Princesses, leading ladies and friends who visit diners at their tables to share a smile, give autographs and pose for pictures.
Start the day with a breakfast of American favorites served family style. For lunch and dinner, take an adventurous "taste of Norway" with an impressive Norwegian buffet of cold dishes and hot entrees available à la carte.
The rotating menu and buffet selections includes Mustard Glazed Salmon, Sauteed Chicken Breast, Vegetable Stuffed Pasta, and Braised Lamb and Cabbage. Or try the Scandinavian special meatball dish made of pork, beef and capers called kjottkaker. Across the koldtbord is a grand selection of prepared salads, sliced meats and cheeses. Children's menu choices are more familiar: pizza, pasta, hot dogs and grilled chicken.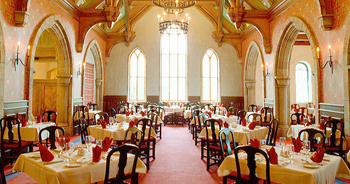 DINNER MENU
THE GARDEN GRILL RESTAURANT
Location: The Land Pavilion
Service: Dinner – Character Dining – Family-style
Price Range: $$ ($15-$29.99 per person)
Reservations: (407) 939-3463 up to 180 days prior to your visit.
A character dining experience for dinner featuring Mickey, Pluto, Chip and Dale. Generous all-you-care-to-eat, family-style dinners include such delicious favorites as grilled steak, roast turkey, and fish of the day.
While you eat, look out the windows of this rotating restaurant to enjoy scenes from the Living with the Land attraction. Some of your food might even be grown in the Land greenhouse! And make sure you save some room for the special desserts.
MENU
Family Style  
Oatmeal Cluster Rolls

Green House Salad with Buttermilk Ranch Dressing

Grilled Flank Steak with Mushroom Cabernet Sauce

Rotisserie Turkey Breast with Cranberry Relish

Southern Fried Catfish

Cornbread Stuffing, Mashed Potatoes, Baby Carrots, Broccolini

Warm Apple Bread Pudding with Caramel and Whipped Cream

CHILDREN'S MENU (ages 3 to 9)
Choose from
Chicken Strips

Macaroni and Cheese
Served with potatoes or french fries and fresh vegetables
Includes a special dessert

Beverages

Coke

Diet Coke

Sprite

Orange Soda

Lemonade

Root Beer

Iced Tea

Orange Juice

Apple Juice

Milk

Chocolate Milk