What is an ADR?
ADRs are DisneyWorld's new system for making dining reservations. It used to be called Priority Seating and you may still hear people refer to making a PS.
Is it a Guranteed time?
No, a table isn't saved for your party at that time, rather your party gets the next available table after that time. You can sometimes pick up an earlier time by checking in early but they won't always allow this.
Do we REALLY need to decide on our dining 90 days out? (NEW Disney reduced it from 180days to 90days at the end of 2008)

Yes. No. Maybe. Sort of! We're not being too helpful here are we 🙂
OK, it used to be said that only busy times needed ADRs, with the advent of the Disney Dining Plan EVERY day can be a busy day for a Disney restaurant. Our heartfelt advice to you is to book your ADRs as soon as you're able to. Yes, it means thinking about what nights the fireworks are on, Extra magic hours, parade timing and all sorts of things that may not even be available, although you can look at previous years timings. Here are some comments from people who didn't take this advice
"We didnt believe you had to book in advance and were not able to get into any epcot table service restaurant our whole stay, never again"
"I wanted to go to the scifi diner but it was booked solid for the whole week so we missed out"
"you should tell people they have to make reservations or they will have to eat offsite" 
How do I make one?
You can call the dining line direct at 407-WDW-DINE (407-939-3463), they're open 7AM to 10PM every day except for Christmas and New Year's Eve when they close at 8pm. You can also make reservations from any WDW Resort concierge desk, by dialling 55, pressing the dining key on your in-room phone, or by pressing *88 from a WDW Pay phone. Make SURE you write down your ADR number and keep it safe! Although they can find you without it, if there's any dispute over you having made the reservation, having the number will help!
What happens at the restaurant?

You should present yourself at the restaurant podium 15 minutes before your reservation time and you'll be asked for your surname. Have your ADR number ready in case they can't find you! They will sometimes give you a ticket detailing when you arrived, your ADR time and expected wait time, sometimes they won't. Either way, you'll either be taken through or asked to wait until they call your name. At Disney, even the calling of the name can be fun as for example at the Liberty Tree Tavern where they call "The Smith family from England"
What if I miss my ADR time?

The first thing to say is, if you know beforehand that you can't make it, please call and cancel it. This lets another party take your time and of course if there's a credit card hold, you will then not be charged as a noshow. It's often said by people that there's no need to cancel because the system just gives the next available table to the next available guests. Although that is how it works, your reservation takes up a slot and means that they won't know to book another party for around the same time.
Can I make multiple ADRs for the same time?
As it's got harder to get bookings close to the time, some people have started making multiple ADRs for the same day and time. They may, or may not, cancel the ones they don't use. We've heard of people making 7 or 8 different ADRs so they can decide where to go on the day! This really is selfish behaviour and Disney may now cancel ALL duplicate ADRs if they spot them leaving you with a nasty shock on the day!
What if I don't get the time or restaurant that I want?
Keep trying! People DO cancel so keep trying. This is why it pays to have alternatives in mind when you call so that you can hold a backup in reserve in case you never get your favourite.
Do I need to confirm my ADRs before I leave for Disney?
In THEORY you don't need to but since you get nothing in writing from Disney about your ADRs and since the system is now much busier than ever before, many people now do call to confirm them.
Can I get a list of all my reservations?
If you're staying at a WDW resort you can ask at the front desk and they can print them out for you
What about special dietary needs?

Let your server know you have special dietary needs and they'll go and speak to the chef on your behalf. The chef may well come out and talk to you about the options! Don't be shy, this happens all the time and is completely expected!
Most places will go out of their way to help you find something you can safely eat, just another reason why Disney Dining is so great.
Which restaurants require a credit card hold?
Victoria & Albert's
Cancel 24 hours in advance
$25 per person penalty for same day cancels and no-shows
Chef's Table at Victoria & Albert's
Cancel 48 hours in advance
$25 per person penalty for cancels within 48 hours and no-shows
Citrico's Chef's Domain
Cancel 48 hours in advance
$100 penalty for cancels inside 48 hours and no-shows
Fantasmic! Dining Experience
Cancel 48 hours in advance
$10 per person charge for cancels within 48 hours and no-shows
Grand Floridian's Grand Adventures in Cooking
Cancel 48 hours in advance
$10 per person charge for cancels within 48 hours and no-shows
Grand Floridian's Pirate Cruise
Cancel 48 hours in advance
$10 per person charge for cancels within 48 hours and no-shows
Grand Floridian's Wonderland Tea Party
Cancel 48 hours in advance
$10 per person charge for cancels within 48 hours and no-shows
Princess Storybook Breakfast
Cancel 48 hours in advance
$10 per person charge for cancels within 48 hours and no-shows
What about large group reservations?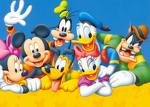 A large group tends to be 12 people or over for normal restaurants and 8 or over for dinner shows, but check with your restaurant! You'll then need to call group dining on 407-939-7707. Be sure to ask everything you need to ask including if there will be a gratuity automatically added as there tends to be over 8 people.
You should be VERY careful with these reservations. Make absolutely sure you get an ADR number and do confirm these a few times before you go. We're aware of many instances where these bookings have been made and mysteriously lost. If you look at it from the restaurant point of view, fitting in a table of 20 can be very difficult so perhaps it's not hard to see how these reservations can strangely disappear. We've seen and experienced standing around waiting for the restaurant cast members to try and fit people in and it almost always results in groups being split up so these reservations need very careful care and regular confirmations.

What's this Cinderella Royal Table?
CRT has the dubious honour of being the hardest reservation to achieve at WDW. It's a small restaurant upstairs in Cinderella Castle and is regarded as the best "princess meal". To get this reservation you MUST start calling 407-939-3463 just before 7am EST 180 days out. You will hear one of two greetings:-
a) Thank you for calling the Disney Reservation Center. Our office is closed… (hang up as soon as you hear the words "Our office" and redial immediately, you will not get through)
OR
b) Thank you for calling the Disney reservation center (pause). You're in and on hold! Wait! Do NOT hang up or you will lose any chance of a reservation!
As soon as you speak to a CM, interrupt their long speil and say clearly, "I need a reservation for Cinderellas Royal Table for December 2nd for 5 people any time thats available" (obviously inserting your own dates/times and requirements). If you specify a time, if you're unclear or uncertain, they will talk to you and by the time it's clarified, you'll most likely be out of luck. Yes, it's THAT hot a ticket!
NOTE: you MUST have a credit card to make this reservation as payment in full is required.