Candlelight Processional
Candlelight Processional is a special Christmas event held nightly at the American gardens Theater as part of Holidays Around The World. The event retells the story of Christmas with a special celebrity narrator accompanied by a 50-piece orchestra and a mass choir. A terrific way to get in the Christmas spirit.  
Held on select nights during the holiday season and, due to its popularity, it often fills up quickly. Shows are at 5:00, 6:45 and 8:15 p.m. each evening from the end of November through to  December 30th and is included in park admission (although seating is limited). To ensure you have a seat, you may participate in one of the Candlelight Dinner Packages that includes dinner, a guaranteed seating section for the Candlelight Processional, and pre-arranged fireworks viewing. For more information or to make dinner reservations, call 407 939-3463
***2010 details….
Scheduled celebrity narrators include (subject to change without notice):
Nov. 26-28: Isabella Rossellini
Nov. 29-Dec. 1: To be announced
Dec. 2-4: Corbin Bernsen
Dec. 5-6: Susan Lucci
Dec. 7-9: Jodi Benson
Dec. 10-11: Whoopi Goldberg
Dec. 12-15: Steven Curtis Chapman
Dec. 16-18: Thomas Gibson
Dec. 19-21: Trace Adkins
Dec. 22-23: Brad Garrett
Dec. 24-27: Edward James Olmos
Dec. 28-30: Marlee Matlin/Jack Jason
Performances are included with Epcot admission, and guests are advised to arrive early. To ensure a seat for this joyous favorite, Candlelight dinner/lunch packages are available at select Epcot restaurants and include guaranteed seating for Candlelight Processional and a special viewing location for "IllumiNations: Reflections of Earth."
Lunch and Dinner Packages:
Lunch Packages range from $32.99-$51.99 per adult and $12.99-$17.99 per child
Participating restaurants include: Biergarten, Rose & Crown, Le Cellier, Coral Reef, Nine Dragons, San Angel, Marrakesh, Teppan Edo & Tokyo Edo, Chefs de France and Tutto Italia
Dinner Packages range from $46.99-$61.99 per adult and $15.99-$23.99 per child
Participating restaurants include: Biergarten, Garden Grill, Rose & Crown, Le Cellier, Coral Reef, Nine Dragons, San Angel, Marrakesh, Teppan Edo & Tokyo Edo, Chefs de France and Tutto Italia
Lunch and dinner package includes:
Appetizer

Entree

Dessert

Non-alcoholic beverage (OR full buffet where applicable)

Guaranteed seating at the Candlelight Processional show

Pre-arranged Fireworks Viewing Area
International Food & Wine Festival
The Epcot International Food & Wine Festival is an annual special event that transforms the park into a food and wine lover's paradise with specialty food items, culinary events, sophisticated parties and live musical entertainment. Park admission is required.
In addition to Epcot's usual section of international cuisine, the festival features regional food items, beer and wine tasting seminars and meals, culinary events, and concerts. **The 2010 Food & Wine Festival will be held October 1st ­– November 14th.
Try delicious cuisine from around the world at special food booths set up along World Showcase Promenade. Explore specialty marketplaces featuring regional foods, wines and beers. Learn from renowned chefs and winemakers at special programs and demonstrations, and sample the finest cuisine from around the globe.  
* More than 300 national and international wines
* 45 fabulous days long
* More than 76 kinds of international foods, each appetizer-sized portion priced $2-$5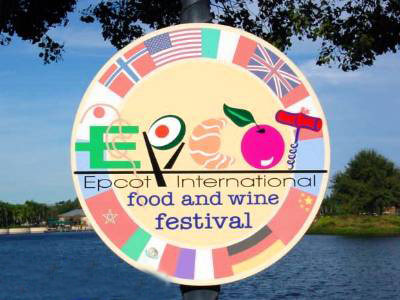 * More than 160 of America's most celebrated chefs and Walt Disney World  Resort chefs
* 1,200 wine and beer seminars featuring more than 100 topics
* 135 Eat to the Beat! concerts performed
* 33,000 bottles of wine and champagne
* 1.2 million hors d-oeuvre plates
* 750,000 beer cups
* 690,000 sumptuous samplings
* 600,000 forks
* 338,000 wine glasses
* 100,000 miniature desserts, including creme brulee, traditional apple strudel, baklava and more
* 3,000 gallons of soup, including cheddar cheese soup (Montreal marketplace), seafood gumbo (New Orleans marketplace), and chilled tomato and garlic soup (Barcelona marketplace)
* 1,500 pounds of fresh strawberries 
***2010 Eat to the Beat performers….
Oct. 1-3 — Taylor Dayne
Oct. 4-5 — Kool & The Gang
Oct. 6-8 — Sugar Ray
Oct. 9-10 — Taylor Hicks
Oct. 11-12 — Air Supply
Oct. 13-15 — Sister Hazel
Oct. 16-17 — Howard Jones
Oct. 18-19 — Exposé
Oct. 20-21 — 38 Special
Oct. 22-24 — Night Ranger
Oct. 25-27 — Billy Ocean
Oct. 28-31 — Starship starring Mickey Thomas
Nov. 1-3 — Boyz II Men
Nov. 4-5 — Roger Hodgson (formerly of Supertramp)
Nov. 6-7 — Jon Secada
Nov. 8-9 — Hanson
Nov. 10-11 — Rick Springfield
Nov. 12-14 — Big Bad Voodoo Daddy
The concerts are included in regular park admission. Showtimes are 5:15 p.m., 6:30 p.m. and 7:45 p.m
Epcot International Flower & Garden Festival
The Epcot International Flower & Garden Festival is a spring special event filled with an array of flowers, gardens, topiaries, live music and educational events. For over two months, between March to May, Epcot gives Disney guests the chance to celebrate spring and anticipate their own gardens.
Disney plants more than 500,000 plants, trees and shrubs, a number that includes over 250,000 annual blossoms. Over the course of the festival, over 30 million blooms decorate Epcot. In addition to the showy topiaries, the festival features water gardens, container gardens, perfume gardens, trees and herbs.
Get up close with hundreds of  butterflies inside Minnie's Magnificent Butterfly Garden. Meet with top horticulturists at one of the many Garden Town Programs and learn helpful gardening tips, and be sure to attend public demonstrations of advanced gardening techniques from around the world.
Weekends during the festival, finish off the day with an evening of music from the 1960s and 1970s during the Flower Power Concert Series.
Park admission is required.